EVOLUTION SIDE BET CITY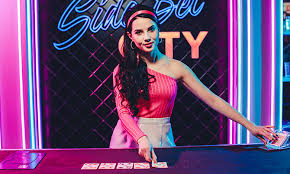 Are you looking for something new and different because you feel bored with the same casino table games? Or are you new to casino games and want to try something easy fun?
Well, available exclusively from Evolution Gaming, Side Bet City is what you are looking for. One more time, Evolution Gaming kicked the online casino market with its uniquely designed 80s-themed poker room. Side Bet City brings the retro vibe of Las Vegas Nights with its jazzy neon lights of a cocktail bar atmosphere alive into the present. Are you ready to experience one of the simplest, fastest, and electrifying games which offer great payouts up to 1000x?  If so, take a seat and have fun!
Side Bet City is a poker based card game. If you are an experienced player of Casino Hold'em or a player who is completely new to the poker table this fast paced game will entertain you. This may be one of the most simple card games of Evolution Gaming. It does not require any prior poker knowledge at all. Players are not asked to make decisions at all either. Players just need to choose one of those 3-Card Hand, 5-Card Hand, 7-Card Hand, or All Lose to bet and this is it. This is the only action required by players.  
WHAT ARE THE RULES OF SIDE BET CITY?
The game is played with a standard 52 card deck that shuffled after each game. An unlimited number of players can participate concurrently in this game 24/7. 
Each game round the game presenter deals 7 cards in total. Once 7 cards are dealt and the game result is identified, winners will be paid out according to their winnings, and a new hand starts. Side Bet City game is played against a paytable.  
HOW TO PLAY SIDE BET CITY?
There are 4 spots to bet on: 3 Card Hand, 5 Card Hand, 7 Card Hand and All Lose. Players only required to place a bet on one or more of the four bets. Players do not need to know the order of poker hands, the game does it automatically.   

After betting time is over, the game presenter deals 7 cards face up. And the card dealing sequence is here below:
The 3 Card Hand
First of all, the game presenter deals the three cards face up to determine the result for the 3 Card Hand. If you bet on the 3 Card Hand, then it wins and is indicated on the user interface. 

The 5 Card Hand
After 3 Card dealt, the game presenter continues to deal the next 2 cards face up which determines the outcome of 5 Card Hand. If you bet on the 5 Card Hand, then it wins and is indicated on the screen.

The 7 Cards Hand
The last dealing happens for the hand and the game presenter deals 2 more cards face up to reveal the result of the 7 Card Hand. If this was your bet then it wins and it will be shown on the screen.

The All Lose
If your bet is on the All Lose spot and neither 3 Card Hand, 5 Card Hand nor 7 Card Hand has a winning hand so that your bet will win. However, if you bet on any of the other 3 bet options those bets will be lost. 

SIDE BET CITY PAYOUTS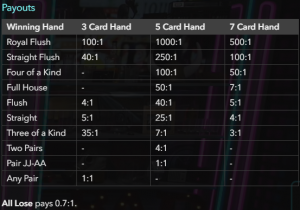 Different payout possibilities are depending on the betted hand type in Side Bet City. 
According to the paytable of Side Bet City, 5 Card Hand has the best payout amount. And All Lose Bet pays 0.7:1. Please have a look at the paytable;
SUMMARY
The theme of the game is so charming. Colors, design, and uniquely created Late Night City Buzz create a fun atmosphere in the studio. For sure, this game will be very useful to learn hand combinations for those who are new in the casino games. This is all to say,  give it a try, and enjoy the game!