EVOLUTION FIRST PERSON
Live Casino entertainment is on the cusp of a new era. Evolution Gaming redefines the style of the Online Casino worldwide by innovating and creating new sophisticated and intelligent games which no other software providers could think of.  
First Person is another uniquely designed 3D animated game series released by Evolution Gaming. New games are Random Number Generator based games and are integrated with Live Casino gaming. 
This is beyond imagination. First Person games allow players to decide the timing of the game. If you are a type of person that would like to take time for each betting round and do not want to be stressed by counting down or kind of a person who would speed the game up. Here we go! This game is exactly designed for that. This game range is capable of assisting thousands of concurrent players. Moreover, another nonesuch feature of the First Person game is 'GO LIVE' button that transfers players directly to the Live Casino Table of the game. So that, if you would like to switch the game and play with a live game presenter you just need to tap 'GO LIVE' button, you will be taken on a journey and be transported to the live version of the game.
FIRST PERSON BLACKJACK
First Person Blackjack is an RNG based live dealer game that is oriented with 3D technology and user-friendly User Interface. However, this is not a Live Blackjack as there is no live game presenter and no other players at the table. This game is designed for those who want to play alone against the computer in a 3D animated casino environment.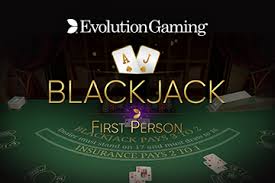 The Difference between First Person Blackjack Game and Normal Blackjack Game  
A player can play the game up to 5 playable hands at once. 

A Player can control when the cards are dealt once the player places the bet/s and is happy with it. Just need to press 'DEAL NOW' to start the round when you are ready'

First Person Blackjack is played with 8 decks of the shoe. Also, each round starts with a new shoe.

'GO LIVE' button should be tapped once you would like to play the game on a real Blackjack table with a live game presenter with other players rather than in a 3D animated environment. 
Apart from the above mentioned features, the objective of the First Person Blackjack game is the same as any other Evolution Blackjack Game. 
The player's hand should be better than the game presenter without boosting 21. The same decision alternatives are available like; hit, stand, split, double down. 

Side bets options 21+3 and Perfect Pairs are available.

Re-bet button repeats the bet same as the last hand whereas the Undo button cancels the last bet placed.
FIRST PERSON ROULETTE
First Person Roulette is a single-player game of standard European Roulette. This 24/7 online RNG based live game has 3D animated immersive technology. Same as First Person Blackjack, there is no live game presenter and no other players at the table.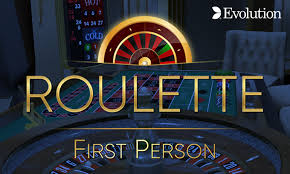 First Person Roulette game is not different from any other Evolution's standard Roulette Game. The objective is that to predict the number the ball will land after each spin around the roulette wheel. Betting options are the same, it is no different than a standard roulette game. As well, this is a 'One Zero' game. Should you check the stats of the game? Then please bear in mind that statistics of the game will be built once you start the game. Once you place the bets and are ready to play, then press 'SPIN' button. Only one new feature implemented on the table is that 'GO LIVE' button. Once it is pressed, you will be taken to the Live version of Evolution Roulette Game where you can play on a table with Live Game Presenter. 
FIRST PERSON LİGHTNING ROULETTE
Evolution Gaming brought a new perspective to Random Number Generator games by adding electrifying multipliers and creating Live Lightning Roulette integrated with First Person Gaming. This game, one of the newest additions of the First Person Game series, is a standard European Roulette with single-zero and main no different than the other Roulette.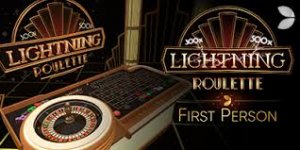 Between one and five random lucky numbers will be selected before every round of the game and random multipliers from 50x up to 500x will be assigned to selected lucky numbers. Here is the excitement! Players have the potential to multiply their winnings if one of the Lucky Numbers struck by lightning is where they place their bet ( should be straight up ) and the ball lands on that lucky number.
Another new function of First Person Lightning Roulette is the same as other First Person versions, 'GO LIVE' button. Players can join the Live Version of Lightning Roulette table presented by a real Game Dealer by tapping on 'GO LIVE' button. 
Apart from that, as this is a single player game, once you are happy with your bets and ready to play, you can activate the game by pressing 'SPIN' button. 
FIRST PERSON DREAM CATCHER
As you might know, Dream Catcher is one of the biggest show games in the online casino industry and is played with a huge vertical multi segment spinning wheel. This is a highly easy play game. Players bet on the segment which they predict the wheel will stop. Of Course, adrenaline booster multipliers 2x and 7x are attached to the wheel.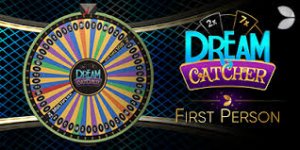 In the First Person Dream Catcher version of the game, you will be thrilled by its amazingly designed 3D animated environment. The option of speed slider lets players control the game speed. ( Fast, Normal, Relax )
'GO LIVE' function is also included in this game. Players who would like to continue in Live Dream Catcher game with a live wheel and live game presenter, should press 'GO LIVE' button. 
FIRST PERSON MEGA BALL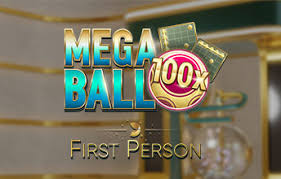 This unique RNG based ball game is appealing to a large mass of players. First Person Mega Ball has the same user friendly interface as the other First Person Games. The game round starts when 'PLAY' button is pressed by players. The studio environment has a charm with its colorful design. As well as the other First Person versions, First Person Mega Ball game has 'GO LIVE' button in case players want to change the game from 3D animated environment to the live dealer Mega Ball studio for boosting the excitement.