EVOLUTION SIGNS AGREEMENT WITH LES AMBASSADEURS CLUB
The leading Online Casino provider Evolution Gaming has announced the agreement with Les Ambassadeurs Club which is one of the most prestigious casinos in London. According to aggreement signed between Evolution and Les Ambassadeurs Club, Evolution Gaming will operate Mayfair Salle Privée Live Casino studios, and also install Dual Roulette and Baccarat tables on the gaming floor on which both online players and real player could place bets. Les Ambassadeurs, also called as 'Les A' by its members has been hosting VIP players and offering hem private game rooms since the beginning of 19th century. Salle Privée, which will be launched in Les Ambassadeurs Hamilton Place is planned to include Baccarat and Roulette tables for selected Online Casino operators.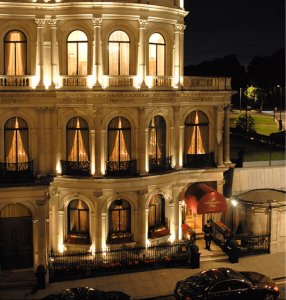 According to the statement made by an Evolution executive, Salle Privée will be operated just like a land-based casino and offer high-quality service for its VIP players, while enabling them select what they desire. Live Casino tables will be open 24/7, and then players desire, they will be able to request dealer, deck or ball change and adjust the speed of each game round.
With the Roulette and Baccarat tables which can be played both online and in land-based casino, real casino members and online casino members will be able to place bets on the same game tables of Les Ambassadeurs. By using their smartphones, tablets and desktop computers, playerers will be able to enjoy the unique ambiance of Les Ambassadeurs Casino and play with the real players in the casino.
Executives of Les Ambassadeurs Club stated that Evolutiong Gaming is the only Online Casino providers to offer the real experience and atmosphere of their casino and they are sure that Evolution Gaming will convey the sense of playing in Les Ambassadeurs Club and meet the expectations of the VIP players.
James Stern, Director of Business Development and Land Based Sales, said that they were honoured to offer Les Ambassadeurs Club brand to selected limited-number operators and they have a significant history of installing VIP studios in both their own building and land-based casinos it would be their first Salle Privée studio in a land-based casino.