EVOLUTION INFINITE BLACKJACK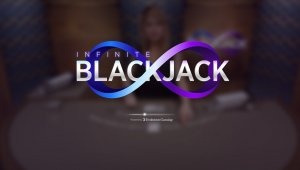 Evolution Gaming, the leader online casino games provider, has launched its brand new online Blackjack Table, called Infinite Blackjack. The aim of Infinite Blackjack is the same as the traditional Blackjack game. Player have to achieve higher card count than the dealer without exceeding 21. You must remember that dealer always stands on 17 including the soft one.
Infinite Blackjack table allows an unlimited number of players to place bets. There is only one boxes to place bet and each online player place their chips on that box.
One of the different feature of Infinite Blackjack table is the "Six card Charlie" rules. When a player hand includes six cards and does not exceed the value of 21, player's hand automatically wins regardless of dealer's hand (including Blackjack). This rule is called "Six card Charlie".
Infinite Blackjack has 4 different side bet options. Two of them is the traditional PAIR and 21+3 Side Bets which players used to see on many blackjack tables. PAIR has two different pay out as SUITED PAIR (25:1) and ANY PAIR (8:1). As blackjack enthusiasts might know,  21+3 side bet gives the player to chance to win according to his first two cards and dealer's first card.  The 21+3 Side Bets are as Suited Trips, Straight Flush, Three of a Kind, Straight and Flush.